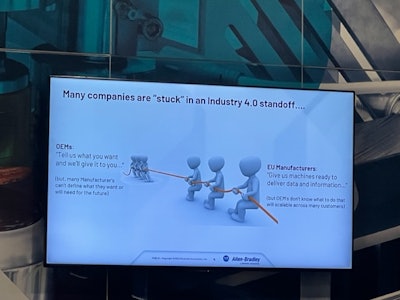 At PACK EXPO Las Vegas this year, it was clear that companies in all sectors have started their own digital journey. At the show, the digital transformation was top of mind for end users in every industry as evident by the packed educational sessions on the floor show that spoke directly on the topic of digitalization, from cloud computing to data collection. Wednesday morning's Innovation Stage presentation by Justin Garski, Americas OEM Segment Manager, Rockwell Automation, presented on the importance of leveraging data in a session titled, "Leveraging Data to Enable Critical Support from your OEM."
OEM support and communication is key to the digital transformation. Garski explained that one issue within this space is that many companies are stuck in an industry 4.0 "standoff," which refers to a dialogue problem between OEMs and manufacturers (or end users). OEMs are asking manufacturers to tell them what they want in terms of data, but most manufacturers are unable to define what it is they want or what they will need into the future. Many companies are stuck in an Industry 4.0 standoff.

On the other end of the "standoff," today's manufacturers are telling OEMs to supply them with machines that are ready to deliver data and information. But many OEMs aren't sure what to do in regards to making it scalable across many customers. Luckily, there are new solutions aimed at addressing this issue as well as educating end users on the value of actionable data.
The future of data collection
There have been smart machines on the market for decades that have had the capability of collecting data. This data is usually collected from various machines and then stored in a database. But Garski says the problem is that many companies are not actually doing anything with the data.
Rockwell's solution is to take that data from the smart machines, things like OEE data, fault history, and all the collected data together and have it available in the company's FactoryTalk Optix, which is what was described as HMI+. FT Optix offers more than just visualization-
it offers charting, creates databases, analytics and, most importantly, works to add context to the data. It makes the data actionable, for instance, fault history is presented to better learn why the equipment stopped to prevent it from happening in the future. Users are able to see the charts right on the HMI.
Regardless of any tension or miscommunication in the industry, the truth remains that most companies have started the digital transformation and have started to understand better the value of data that can be extracted from smart equipment. And while the data is great, the real key is to turn the data into actionable information to improve line efficiency.
Are you an end user just getting started on the digital journey? While all experts agree that it is a large undertaking, the consensus is that it is time to start. "Start somewhere. And be sure to ask for a data-ready machine," said Garski.
So, even if you aren't ready to extract data from it today, you will be able to in the future.