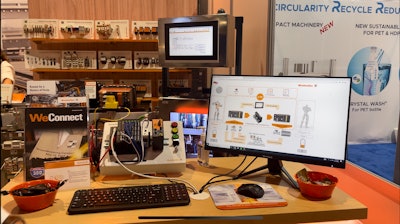 At PACK EXPO Las Vegas, Weidmüller, a smart industrial connectivity and automation company, launched its latest in automation, the u-OS innovative operating system for automation product. The system is designed for original equipment manufacturers (OEMs) in the conveyance, food and beverage, and oil and gas industries.
The u-OS can fill multiple functions. At the show, a PLC controller was running the operating system to demonstrate how Weidmüller customers could have the flexibility to load the kind of applications they want into their system so that it's all containerized and dockerized.
"The best part about u-OS is it's strategically poised to solve a lot of the problems that we have today with having PLCs connected to the cloud. Remotely deployed assets always need some mechanism by which you can reach out and continue to update and upgrade with patches and firmware, so edge management and fleet management," says Kenneth Crawford, director of automation in North America for Weidmüller. "We offer a portal called Easy Connect that you'll be able to remotely connect to the devices and keep them current."
An application within conveyance that hones in on the modularity of conveyance is putting the base modules in the IP-rated box, with control systems, gateways, network switches, to interface with upstream and downstream components. This allows the sharing of data and the accessing of data to transfer all relevant information to the cloud.
Crawford also explains that u-OS can be used to leverage third-party applications or for an OEM to develop its own control and cloud-based applications to run on the equipment, ranging from JavaScript applications and Python applications to leverage the power of MQTT and data for any applications that a company may be running in the cloud.
Another application of the new system is preventative maintenance. Rather than an OEM relying on a break-fix model, it can remotely get indications of the machine's health and set up for on-sight maintenance within eight to 12 hours with all the needed parts in tow, or remotely access the equipment and provide troubleshooting assistance.
With u-OS, Weidmüller can also duplicate a customer's network, even if on-premise network isn't available by offering a cellular network to reach out to the customer's cloud or VPN. The customer's network can also be used to access its machine through its firewall, using its permissions.
Because of availability or allocation issues currently facing the industry, an OEM may not have the ability to get to its PLC anymore. With the incorporation of Code Assist, Weidmüller can utilize a customer's IP and port it over from Code Assist to the Weidmüller platform encoding system and run it within a day, where it can be validated. This benefits manufacturers who don't the bandwidth for a learning curve on a new program and helps the OEM get the equipment up and running quickly.