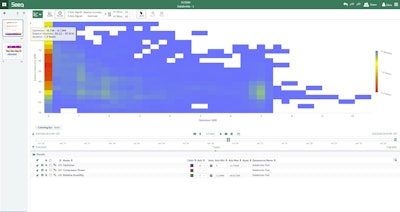 Seeq
Data drives digital transformation. But accessing data can be difficult.
Seeq, a provider of self-serve, advanced analytics for contextualizing disparate data sources in an easy-to-understand format, intends on solving that data dilemma with a new partnership that promises to accelerate the adoption of artificial intelligence (AI) and machine learning (ML) in manufacturing.
In a press release, Seeq announced a partnership with Databricks, a data and AI company that brings a native integration between the Seeq software and the Databricks Lakehouse Platform, a data management architecture built on open source and open standards that's designed to eliminate data silos.
This bi-directional integration enables users to combine contextualized time series data from industrial assets with a vast array of enterprise data sources—unifying IT and OT data processing and delivering robust reporting, analytics and predictions in their business. As a result of the partnership, Databricks customers will be able to take advantage of Seeq's extensive connectivity to time series data sources and power a wide range of analytical use cases across the enterprise. And insights developed in the Lakehouse Platform can be operationalized in Seeq, introducing new opportunities for process experts and data teams to deliver data-driven solutions to increase industrial productivity, improve operational reliability, enhance safety, and accelerate progress towards sustainability goals.
Seeq serves a variety of industries, including food and beverage and pharmaceuticals and life sciences, as well as the oil and gas, pulp and paper, and power segments.
"The Seeq and Databricks integration is a critical step toward bridging the communication gap between operations technology and information technology personnel, which will drive increased machine learning value across the enterprise,​​"​​ said Megan Buntain, Seeq's vice president of global partnerships and ecosystem in a statement.
Existing customers see the value in the partnership as well. In the press release, Brent Railey, chief data & analytics officer of Chevron Phillips Chemical ​​Company said: "Seeq brings key time-series functionality that just isn't available in other solutions. Seeq also simplifies the complexities of connecting to various types of process data sources. Databricks brings scalable, elastic data engineering and data science capabilities at an affordable price."
Databricks' global manufacturing industry leader Shiv Trisal added, "Our collaboration with Seeq unlocks tremendous value for customers, making it simpler for organizations to operationalize and democratize IoT datasets by leveraging the open and secure foundation of the Databricks Lakehouse Platform. This significantly lowers the barrier to data-driven innovation in the industry."