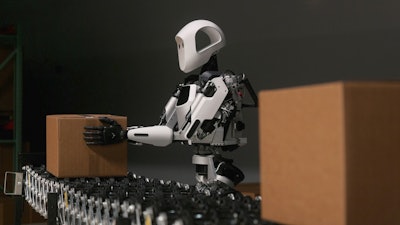 Apptronik
When I sat down to research this article, I wasn't sure what I would learn. What exactly are humanoid robots, and are they a viable labor force solution? Can they operate sophisticated equipment or only perform simple tasks? How much faster are they than human workers?
Humanoid robots, or robots that look and move like humans, still look like a thing of the future, but they're already being used in some industries today and have the potential to report for duty on the packaging line in the near term. General-purpose robots like humanoids are different from the robotics and automation we write about daily here at Packaging World. We're not talking about one piece of equipment that does one thing (albeit very fast and efficiently). We're talking about a robot that can be programmed and "taught" to do many things, like kitting, material replenishment, order picking, palletizing, and lifting/loading. Is there a place for a general-purpose robot in packaging facilities today?
General Purpose Means Greater Functionality
The robots mentioned above are programmed to do one task and do it well. General-purpose humanoid robots such as Phoenix from Sanctuary AI, a Canada-based robotics company, can handle a variety of tasks thanks to its full body mobility. This gives users the flexibility of using the humanoid robot to automate any pressing task at any pressing time.
Log in to view the full article