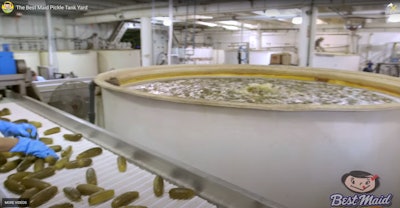 Best Maid Pickles
Best Maid Pickles was founded in 1926 by the Dalton family of Mansfield, Texas. Since its humble beginnings almost 100 years ago, Best Maid has grown to become the largest pickle manufacturer in the Lone Star State. It's success stems from holding on to the basic core values of striving for the highest standards of quality and food safety. They do this by maintaining control of the entire cultivation and production process—from growing the cucumber crops to storage, shipping, flavoring, and bottling. It's a seed to jar operation
At the Fort Worth, Texas site, Best Maid has 800 tanks with the capacity to hold 35 million pounds of cucumbers. And after 97 years, Best Maid certainly has perfected pickle production. But in 2016, the company was asked by customers to commit to higher levels of safe quality food (SQF) certification. This corresponded with some rapid growth related to private label packing for a large company that was moving Best Maid into new areas of business. With the evolution of business, the tried and true tribal knowledge of the past would no longer suffice.
During a presentation at Rockwell Automation Fair in Boston, Lance Heinen, Best Maid's vice president of supply chain and finance, described the set up that had served the company well for decades, but was in need of modernization.
"At the time, we had good plant manager. He was a great guy, but he based the schedule on feel. So he would say, 'I feel like we haven't run this product recently, so I think we are going to put it on the schedule because I feel like we are going to need to ship it.' And that was our demand planning," Heinen said, noting there wasn't a lot of technology implemented at the manufacturing plant. Even inventory management was performed by one person counting and recording information in an Excel spreadsheet. "So to go from that to some very specific customer requirements on timing, we knew we needed to change what we were doing."
They also knew an enterprise resource planning (ERP) system was the answer. But the transition had to be seamless and easy for non-technical users—even Heinen notes he comes from an agricultural background having been focused on crop production most of his career. "The biggest factor we wanted was a cloud-based system. We decided from day one that was all we were going to look at."
A solution for today and tomorrow
The ERP system had to be easy to use for machine operators and material handlers, and it required detailed traceability to comply with SQF certification requirements. It would also help with internal processes, such as recalls, which is cumbersome without the right electronic records.
Best Maid looked at two cloud-based ERP providers, Plex, by Rockwell Automation being one of them.
They ultimately chose Plex for a few reasons. "One was because it really did feel like it was built for the shop floor," Heinen said. "The other big piece of it was their implementation strategy. They had a good game plan going into it. It also helped that they had a local consultant in our area. So selecting an ERP provider that understood the unique challenges that a pickle company has gave us a high level of confidence that we were choosing the right partner."
The selection of the Plex system happened in 2016, and in January of 2017 Heinen and one of his colleagues went to a boot camp to learn about the platform before the technology implementation began in February and they went live in August 2017—without a hitch, Heinen notes. "We didn't miss a beat of production."
Of course, there was some culture change to adjust to getting people to think in terms of ounces and pounds vs. Dixie cups as a unit of measure, Heinen jokes, and going from having 20 computers in the organization to having 20 material operators walking around with tablets was also a big change. But the Plex team took the time to understand Best Maid's process and implement it effectively into the system, he said.
The ROI
The Plex system has noticeably improved the company's inventory management as well as streamlining financials. "On the financial side, it would take us three to four months to close a period. So we were constantly operating pretty far behind, which in today's age, you can't make decisions four months after, you have to be able to make it today and you have to know where you stand on your margins today. Before Plex we were absolutely not able to do that," Heinen said.
Having all of the data in one place provides Best Maid with instantaneous margin analysis for more agility around pricing decisions as well as bringing new products to market. It also reduces the safety stock. By using Plex's material requirements planning (MRP ) functions to see what is needed in the next week or month, the company no longer has to keep a year's supply of every raw material. Due to enhanced tracking, raw material holdings were reduced from six to 12 months to six to 18 weeks, reducing raw material holding's worth by $500,000 annually. In addition, overall, the company is at a 95% accuracy range for demand planning.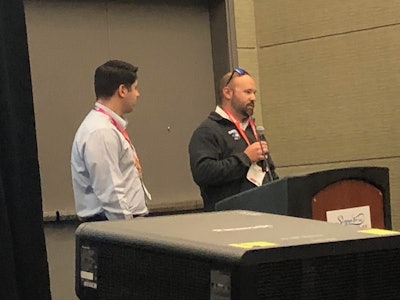 It has helped in other areas as well, such as labeling, by eliminating about $50,000 in annual lost revenue from mislabeled items. The company has about 180 different SKUs, many of which are the same product, but there's a different label depending on the customer. Before Plex, the labeling process was handled by a person grabbing a roll of labels off the shelf and bringing it to the line—which can introduce mislabeling that can result in lost revenue. "But now having that serialized inventory where they're scanning things in and out, we've got the visibility of what's running on the line, where before we didn't have it. It was just somebody grabbing a roll and hoping they grabbed the correct one."
In addition, without a warehouse management system (WMS), Best Maid would not know they were shorting an order until the truck was there to pick it up. Having an MRP with insight into what they've got, and what the plant is running, and being able to move schedules around depending on customer needs, has resulted in the ability to have better visibility into the process to track what is coming and going.
To understand the full return on investment (ROI) of the Plex implementation, Nucleus Research conducted an in-depth investigation of the Plex deployment at Best Maid and found an annual average of 185% ROI.
"So we calculate this by just taking the annual net average annual net benefit, that's all the benefits of Plex minus all the costs of Plex, and you divide that by the initial investment," explained Isaac Gould, research manager at Nucleus Research. "The initial investment here is for the implementation process, that's both the internal team's time spent with the implementation, some of the consulting services, as well as the subscription costs for the first year. And there was also a training element to deployment of Plex." Given all of that, the 185% ROI was in the first six months of deployment, Gould said.
"We've seen improvements in our business since moving to Plex," Heinen said. "Until we actually put the numbers on paper to show what it is, I don't think people fully understood how much benefit it provides us."