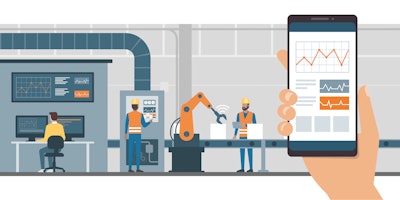 Manufacturers of consumer packaged goods are increasingly utilizing analytics to anticipate customer demand and optimize their processes. According to a report from ABI Research, "Industry 4.0 in the Consumer-Packaged Goods Market," overall, digital factory revenue will approach $24 billion in 2030, with spending by CPGs on data and analytics services forecast to reach $4 billion in 2030, up from $500 million in 2021.
"Plant managers walk a tightrope every day. Too little production leads to shortages and lost revenue opportunities; too much production means that perishable products go to waste," explains Michael Larner, Industrial and Manufacturing Principal Analyst at ABI Research. "Digital threads across the supply chain are essential."
Production planning is challenging without information from retailers' point of sales systems, the report notes. CPG manufacturers need to work with retailers, distributors, and supply chain partners to share sales information through the supply chain, from the farmer to the checkout line. "While creating digital threads across the supply chain will take time, in the short term, CPG manufacturers need to ensure that their production plans are informed by as much relevant data as possible," Larner points out.
According to ABI, CPGs are investing in IoT sensors and analytics to monitor temperatures and humidity levels in their facilities and the condition of ingredients and foodstuffs, alerting staff if conditions change beyond acceptable parameters. Many CPG manufacturers are undertaking ambitious data projects. For example, the report shares, Anheuser-Busch InBev is unifying its 27 disparate Enterprise Resource Planning systems (ERPs) into a single system, and Mars is creating a digital thread to provide visibility from the point of origin of its raw ingredients to the point of sale.
Advises the report, digital threads will be essential for CPG manufacturers to meet the needs of their various stakeholders. Concludes Larner, "Manufacturers need work with retailers and supply-chain operators to, among other things, anticipate and prepare for demand surges, have flexibility on their production lines to accommodate trial flavors and new packaging, as well as have the required documentation available for regulators as evidence of how the facility handles ingredients."
PACK EXPO Las Vegas and Healthcare Packaging EXPO (Sept. 27-29, Las Vegas Convention Center) will reunite the packaging and processing community. With over 1400 exhibitors, no other event in 2021 will bring together a more comprehensive gathering of suppliers offering new products, technologies, and solutions. Attendee registration is now open.