Getty Images
The consumer packaged goods (CPG) industry faces a bit of a manufacturing mess at the moment as a result of mega trends that are forcing these companies to upgrade operations. From consumer buying behavior that is ever-changing, to cybersecurity threats, sustainability initiatives, supply chain disruptions, and a skills shortage that portends problems on the plant floor, CPGs are at the point where they have to do something different.
Given the shifting sands upon which CPGs currently conduct business, there is an innate understanding within the industry that they must update antiquated equipment and processes. And the necessary next step for them is a digital transformation. Unfortunately, it doesn't seem to be happening.
In a survey conducted in May of 2023 by PMMI Media Group, of the 166 CPG respondents, 66% have not started a factory floor digital transformation. And, of the 34% that have started, 42% have only just begun, and 24% have finished just one project. A mere 18% are at a stage where they have scaled digital transformation across several plants.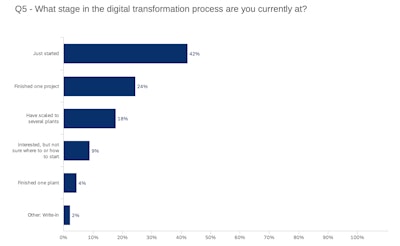 The respondents range from small breweries to large food conglomerates with a solid assortment of titles, including CEO, vice president of global engineering, continuous improvement manager, controls engineer, and more. Most say that they are following an executive mandate to digitize the plant floor, as many (57%) acknowledge the people making the strategic digital transformation decisions are at the C-suite or VP level. Yet, despite these marching orders, most (59%) don't have a specific person in charge of digital transformation at the project level.
Having a dedicated team that includes the people who will ultimately be responsible for running the new digitally-enabled operations will be a vital part of the success of the modernization efforts. According to one respondent. "It is important that local operations teams have input and help to set the priorities for the deployment of these types of systems. If the new systems do not address the issues of the plant operations teams, the systems will not be fully utilized."
Obstacles to overcome
When asked about the biggest problems they face as they embark upon their digital transformation journey, a skills shortage and lack of expertise surfaced as the number one answer (57%), followed closely by limited resources to manage the project (55%), IT constraints (52%), limited experience leading these types of projects (45%), and a lack of time due to day-to-day firefighting (43%).
Nevertheless, there is a clear interest in technologies that will position the plant floor for the future, specifically Big Data analytics; predictive maintenance, track and trace, machine learning, and cybersecurity. Now, it's just a matter of figuring out how to choose the right software and tools and finding the appropriate team members who can work on project-based digital deployments that can be scaled while delivering on the executive vision.
To that end, the ultimate goals for digital transformation in CPG manufacturing include: Operational efficiency (90%); asset optimization (47%); workforce engagement (42%); energy efficiency (35%); and cybersecurity (23%).