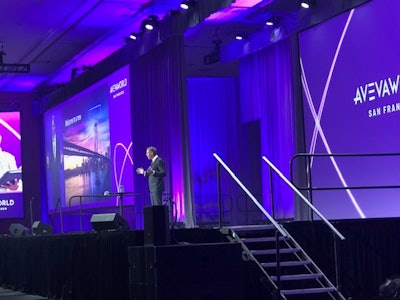 Industrial software provider AVEVA, known for its portfolio of products that help process-heavy industries with digital transformation, made several announcements during the AVEVA World 2023 event this week in San Francisco. The focus was on democratizing data that enables cross functional teams to deliver higher productivity with less waste.
At the center of it all is AVEVA's cloud platform, called AVEVA Connect, that powers the company's "Intelligence-as-a-Service" strategy. Here, there is an emphasis on integration within its own product suite in the areas of engineering, operations, and data management, along with an array of disparate applications from a growing partner ecosystem.
Specifically, innovations in the areas of visualization, digital twins, analytics, and artificial intelligence (AI) impact the company's Unified Engineering and Operations Control products, as well as the traditional on-premise operational data management PI System that is moving into more of a hybrid model. These innovations build on the capabilities of AVEVA Data Hub, the cloud-native data management solution within Connect that enables organizations to aggregate, share, and analyze data with context across the connected ecosystems.
"The most important question of our age is how to do more with less," said AVEVA CEO Caspar Herzberg in his opening remarks at the AVEVA World general session, noting that if energy and manufacturing organizations don't follow this path, they will not be sustainable, they will not make money, and they will not get business results while meeting strict government regulations. The only way to simultaneously make money while supporting sustainability efforts is to adopt digital transformation technologies, he said.
Most companies—regardless of industry—understand that digital transformation is a must. The problem is, most fail, Herzberg said, noting that only 30% of companies that engage in digital transformation are successful. The other 70% fall flat for one fundamental reason: "They don't have the right IT and OT skills, and they build customization on top of customization."
What manufacturers really need is a way to break down the software silos that exist within the organization, as well as across the supply chain, so that everyone is working from the same set of "trusted data," which Herzberg defines as data in context in that the user knows exactly what it is and where it came from.
"We are building a new data infrastructure based on one industrial intelligence platform designed to empower you at every step of the design, build, operate, and optimize cycle," Herzberg explained. "We're bringing disparate software together to easily exchange data between them and seamlessly operate [whether it's] put into the cloud native environment or on premise or hybrid. We are enabling the easy flow of trusted data between our solutions and the users all in one place."
Connecting the dots
There are a variety of components that go into the overall Intelligence-as-a-Service offering. AVEVA Data Hub, for example, can bring together time series data and MES data in the same place to allow a manufacturer to not just see what was produced, but how it was produced. In the cloud, this contextualized data is easily sharable within the company and across the supply chain.
In addition, the AVEVA PI Data Infrastructure, highlighted at the conference, is a fully-integrated, hybrid cloud solution that enables industries to turn physical assets into agile digital insights, collaborating on shared data that they can access live whether they are in the office, the plant, or out in the field. According to the company, this single-subscription solution provides customers with scalability, centralized information management, and secure, collaborative intelligence sharing. The software also includes access to cloud services from AVEVA Connect, including AVEVA Data Hub and AVEVA Connect visualization.
In addition, AVEVA Advanced Analytics is a no-code Software-as-a-Service (SaaS) approach that enables teams to securely share data to deliver actionable insights from a single source of information.
The company is taking analytics a step further by testing out generative AI, leveraging the toolset to change the way users interact with a system while tapping into decades of tribal knowledge. Using large language models and industry-specific user interfaces federated behind a firewall, it will allow users to interact and ask questions related to operations or maintenance.
Eye-opening generative AI
In a demonstration by AVEVA chief product officer Rob McGreevy, he showed an example of an engineer starting a typical day managing a wind farm who noticed a lower than expected output. The user can ask an AI assistant if there were any issues overnight and the system can parse it out and come back with information related to the asset repository in the PI and SCADA systems, presenting details on why a specific turbine stopped functioning, for example. From there the user can ask for a utilization dashboard, drill down to interrogate the system for temperature or other variables over the last 12 hours, and get answer from the AI assistant that are infused with real-time dynamic responses. The AI assistant can even pull up the manual for the turbine and summarize recommended steps for remediation, as well as show the 3D model for a visual contextual awareness.
"These things will be quite feasible in the near future. We're highly tuning it to industrial manufacturing and critical infrastructure use cases," McGreevy said. And because it is happening behind the data firewall, the natural language process is not pulling from the general internet. "It's a secure and responsible way of implementing these technologies to make the world a very cool and better place."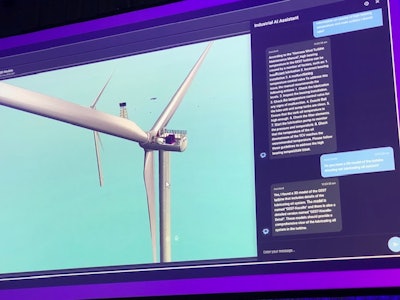 McGreevy described the latest technologies as an inflection point for the industry, representing the need to digitize in interesting and meaningful ways in order to remain competitive and prosperous. "Our answer to that is Connect. It will deliver an integrated experience that we think is necessary to move the industry forward, regardless if you are running refinery processes, building ships, or running CPG or food and beverage facilities, it applies to all of them."
The CPG angle
In fact, AVEVA software is already in many CPG plants. The company points to cereal company Kellogg's which uses the PI System to track and manage energy-use data to reduce emissions, and Nestle, which uses AVEVA's Unified Supply Chain in the cloud to enable the team to manage model-building, decision support, and production planning in one digital space.
A move to a cloud-based hub of integrated systems—which includes disparate software from a growing partner ecosystem—is the next step.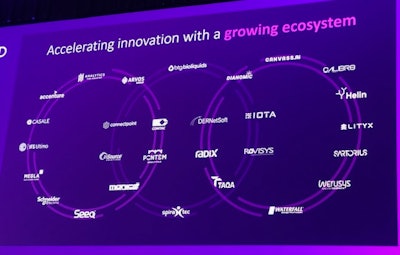 "I've noticed that increasingly there is an understanding [by CPGs] of what they can get out of digitalization in general," Herzberg told CPG Next in an interview. "Some of that is what I call 'the cultural question' related to the top-down approach where usually a senior leader decides they have to digitize. Or, is it born out of necessity. But most of the competitive pressure [for CPGs] is the need to translate reduced waste into sustainability targets. That means they need more data to prove what they've done and they need to get it from their systems, which means they have to connect systems in an efficient way that doesn't disrupt the processes they've built over the last 40 years."