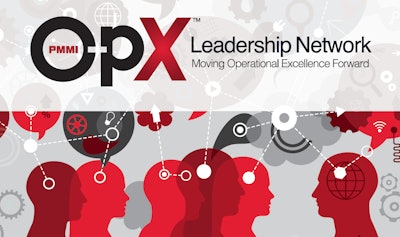 Knowing how and where to start digitally transforming manufacturing operations can be difficult, especially at the beginning, leading the OpX Leadership Network, convened by PMMI, The Association for Packaging and Processing Technologies, to produce the Digital Transformation Roadmap: The Roadmap to Fully Realize the Value of Trapped Data Within Multiple Operational Assets. The work product serves as a pivotal guide designed to propel consumer packaged goods (CPG) companies, original equipment manufacturers (OEMs), and systems integrators (SIs) into an era of excellence in digital operations. The transformative roadmap equips businesses with the tools and insights needed to seamlessly transition from manual to digital processes, paving the way for accelerated growth and success.
In today's rapidly evolving business landscape, embracing digital transformation is the key to unlocking extraordinary potential. By harnessing the power of digitalization, companies can ensure that critical data reaches the right individuals precisely when needed. Achieving this digital transformation facilitates access to operational insights that were previously inaccessible, providing valuable information about machines, lines, and facilities to empower quick decision-making and drive meaningful action. Consequently, this fosters continuous improvement across multiple business facets, including sustainability, productivity, and efficiency.
The Digital Transformation Roadmap guides businesses on where to begin their journey and how to tailor the transformation process according to their unique starting point and requirements. It helps the business assess its current automation maturity level and readiness for digital transformation.
Key highlights of the Digital Transformation Roadmap include:
• The Benefits of Digitalization: Understand how digitalization can improve sustainability, boost productivity, and empower your workforce with the skills they need to thrive.
• Starting the Digital Transformation Journey: Identify opportunities, evaluate your organization's readiness, and chart a course to scale your digital transformation roadmap.
• Putting It All Together: Create a bespoke digital transformation roadmap and select the appropriate partner and software platform to execute your vision effectively.
• Seeing Real-World Results: Explore the tangible benefits of digital transformation through in-depth case studies from four real-world success stories.
"The OpX Leadership Network extends its gratitude to all stakeholders who share in our mission to drive excellence within the CPG industry," said Bryan Griffen, senior director, industry services, PMMI. "We are confident that the Digital Transformation Roadmap will prove to be an invaluable resource as you embark on your journey toward more efficient and effective manufacturing operations."
According to the work product, the biggest misconception about digital transformation is that it's a massive undertaking that must be done simultaneously. Companies may think they lack the capital, time, effort, and people to invest in it. In reality, digital transformation is flexible and scalable, and companies can do it in steps that provide significant value at every level.
It's best to start small, in one defined area. That way, companies can prove return on investment (ROI) and then scale up. In fact, some large-scale digital transformation undertakings have failed to deliver value because they were overly ambitious.
Starting the Journey
Per the Roadmap, a project starts by selecting a digital transformation team within the company, then gathering existing information and creating a high-level road map. The digital transformation journey differs for each organization, with significant variations among CPGs, OEMs, and systems integrators. However, by asking preliminary questions, teams can effectively create a high-level road map supported by the answers. Through this road map, digital transformation teams can gain clarity surrounding the projects' goals, costs, and expected value. Digital transformation teams don't have to attack this project alone. Part of planning includes selecting a proven digital transformation partner and information hardware/software platform. The right partner allows companies to focus more on solving business problems and less on time-consuming implementation details.
A progressive strategy begins with connecting smart technologies to access valuable field data and provide visibility to users. Data availability leads to analytics, empowering users to perform their jobs more efficiently and effectively by leveraging technology and data.
Whatever the automation maturity level of an organization, companies are best served by selecting and building their solutions on a comprehensive digital transformation platform. It's critical that the platform incorporate field devices, computing hardware, and control/visualization/edge software, with an emphasis on connectivity and security. Developers can focus their efforts on optimizing operations by choosing a proven platform developed and supported by a leader in the industrial automation and computing field.
Picking a partner
When selecting a digital transformation partner, looking for one with proven success stories that align with your company's goals is crucial. This provides a significant advantage that minimizes the learning curve.
Digital transformation teams are best served by choosing a platform built on recognized and proven industry standards that are interoperable with both OT and IT needs. A platform that fulfills these requirements can provide seamless integration from the factory floor to the cloud. A platform that uses the latest technologies, especially cybersecurity, and can interface well with legacy systems also gives a company an advantage.
A comprehensive digital transformation platform will have products for field devices, including sensors, actuators, and motor controls. It will also offer computing options for gateways, PLCs/PACs, edge controllers, operator interfaces, and industrial PCs. Software and development environments will be consistent and interconnected for control logic, HMI/SCADA, data servers, edge computing and connectivity, and analytics for efficiency and energy management.
There can be a temptation with digital transformation projects to use a variety of vendors. However, the nature of the work and greater network/internet connectivity introduce cybersecurity risks that are difficult to anticipate and test for with custom designs and can't be fully addressed retroactively. Cybersecurity must be built-in throughout the platform, using proven secure-by-design and defense-in-depth measures, which are more easily implemented by using products and solutions from a single vendor.
Actual achievement in digital transformation is driven by the understanding that the complex worlds of technology and manufacturing constantly evolve in response to one another. Because of this, the digital transformation journey never ends but continues to grow and change as new solutions emerge to address new manufacturing challenges and needs.
Companies that follow this progressive approach are at an advantage, taking each valuable opportunity to transform and optimize their business continually. By seeking out expert partners, gaining small successes, recognizing proof-of-concept efforts, and gradually scaling the successes across their business over time, CPGs can best position themselves – now and for the road ahead.
Download the Digital Transformation Roadmap work product and learn more about the OpX Leadership Network by visiting OpXLeadershipNetwork.org.
---
About OpX Leadership Network
The OpX Leadership Network was founded in 2011 by PMMI, The Association for Packaging and Processing Technologies, to ensure CPG companies and OEMs are well-connected and well-prepared through the development of best practices and tools to identify and solve common operational challenges, make smarter decisions, and achieve operational excellence. With a commitment to continuous improvement, the OpX Leadership Network empowers businesses to thrive in an ever-evolving marketplace.